The Robledo Story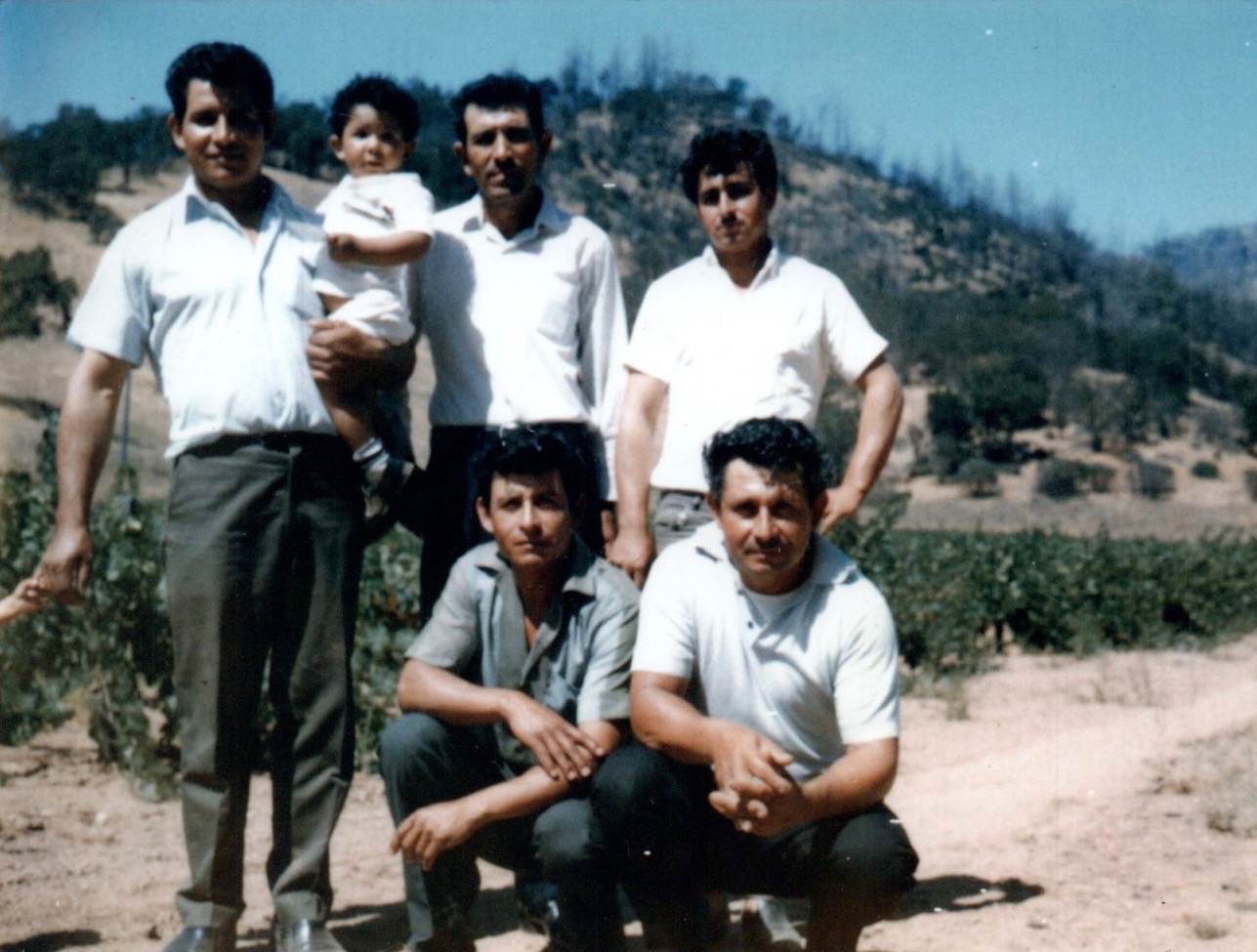 Top left: great-uncle Ernesto with son, great-uncle Augustin, cousin Luis Bottom left: grandfather Everardo (Lalo) and great-uncle Luis
Our Family's "American Dream"
Our family came to the United States and began working in the vineyards in the 1940s. Today our family has established the first winery in the United States to be founded by Mexican vineyard workers on their own land. Our parents Reynaldo and Maria Robledo (pronounced RoBLEDo), began commercial wine production from our estate grapes in 1997 at our family winery in Sonoma Valley, California.
Today, I honor the previous generations that contributed their labor and passion for the wine industry through their hard work and sacrifices so that my generation could continue the production and farming of fine wine in California's fertile soils.
Sincerely,
Everardo Robledo
CEO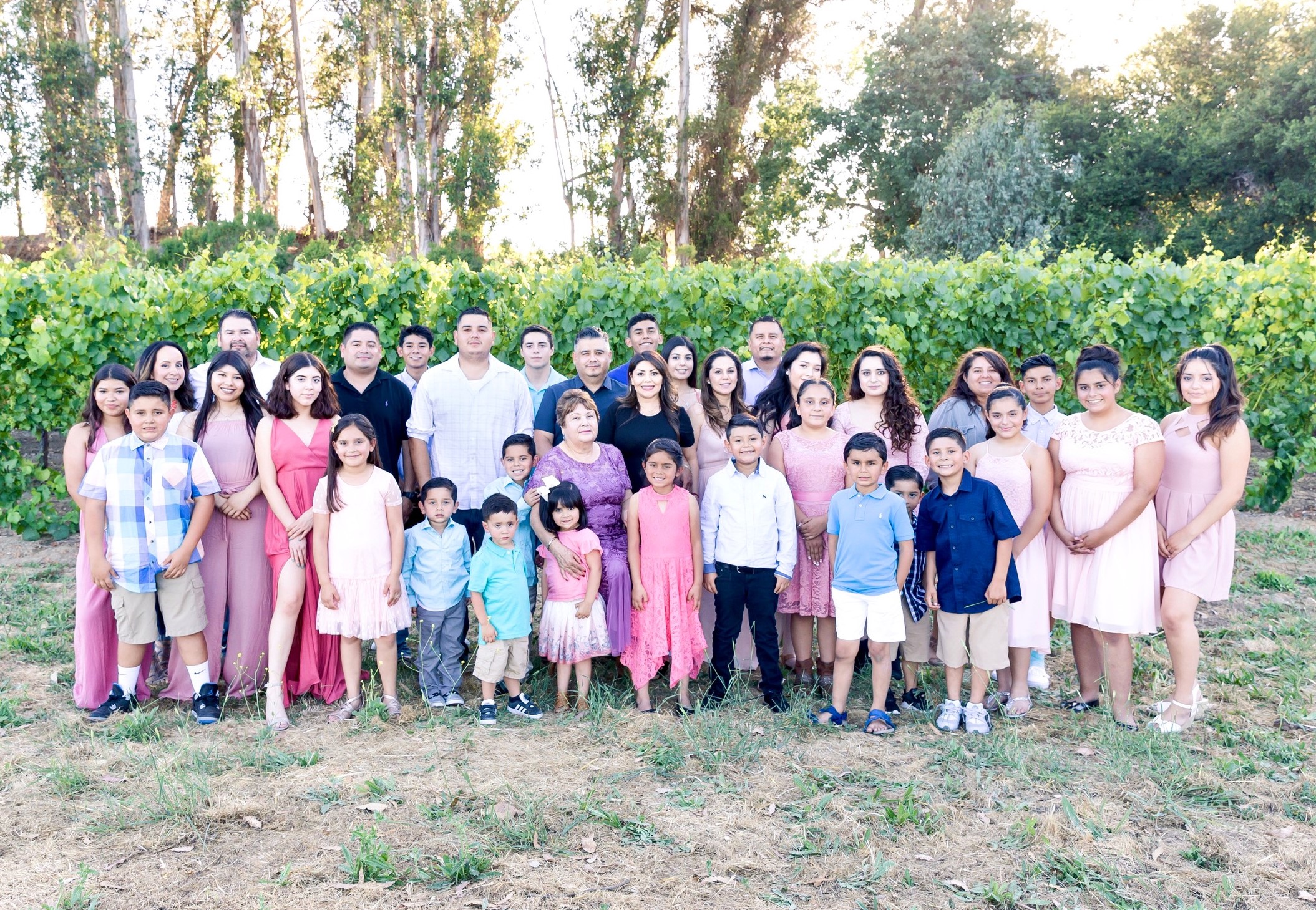 Robledo Family Winery History
For four generations, our family has dedicated our lives to the craft and business of viticulture. With a long history of farming in Mexico, Luis Robledo and his sons came to America in 1942 under the Braceros guest workers program to provide a vital function for California's agriculture industry, wine making in particular. At that time, the US agriculture industry was in crisis. Because so many Americans were serving in World War II, there was not enough skilled labor in California to raise crops and bring in the harvest. Our family members were a few of the millions of Mexican laborers who dedicated their bodies as the labor force that sustained American agriculture.
The story of the Robledos in the wine industry began in the 1940s when the Robledos lived at a labor camp in Healdsburg, California where they farmed fruit trees and worked in the vineyards. It was in the vineyards, though, that the Robledos found their life's calling as workers and master grape grafters. Everardo (Lalo) Robledo, fourth son (second generation) of Luis, recalls working for hours hunched over on his knees grafting hundreds of vines in one day. Lalo learned to farm wine grapes with his brothers, cousins, and from his father Luis.
Reynaldo Robledo, Lalo's oldest son (third generation), came to America in 1968 at the age of sixteen with a vision of someday buying and farming his own land. Reynaldo was determined to learn from his father all about growing quality grapes. After marrying Maria de La Luz Ramírez in 1970, Reynaldo began a new chapter in the Robledo legacy when he and Maria started a family of nine children grounded in the culture of agriculture and their determination to farm their own vineyards.
When Maria was not taking care of the children or cooking delicious meals, she was working in the vineyards with Reynaldo to help the family get ahead. In 1984, Maria and Reynaldo saved enough money to buy their first piece of property in the Los Carneros appellation of Napa, where they planted Pinot Noir grapes and where the nine Robledo children grew up working in the vineyards. Reynaldo ran a strict household. The children worked in the family vineyard after school, on weekends, and on holidays.
All the children of Reynaldo and Maria proudly contribute to carrying on the long-standing traditions handed down to them by their parents.
Lorena Robledo, their first born, is one of the founders of Napa's Mi Sueño Winery alongside her husband, Rolando. Born two years later and named after his father, Reynaldo Jr. is the founder of The Olive Farm in Sonoma Valley. Everardo, the third born, is the acting President and CEO of Robledo Family Winery, while Vanessa, born in Sonoma Valley, is founder of Vanessa Robledo Wine. Jenaro runs and operates Robledo Vineyard Management and Robledo Ranches. The younger Robledos, Luis, Francisco, Lazaro and Adrian Emiliano, help with the wine production and sales of the Robledo wine.
Today the winery continues the Robledo tradition of culture, craftsmanship and commitment to producing outstanding wine under the leadership and management of the younger generation.
We look forward to hosting you, your family, and your friends at Robledo Family Winery in Sonoma!