Family Bios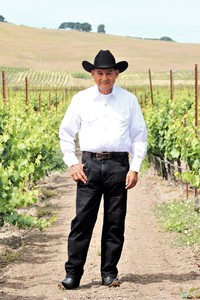 Reynaldo Robledo, Sr. - Founder
Reynaldo Robledo, Sr. (third generation) was born in 1951 in a small pueblo in Atacheo, Michoacán, Mexico. As a five-year-old child, Reynaldo helped support his farming family by making adobe blocks to sell for home construction. He came to America in 1968 and joined his father, Everardo (Lalo) Robledo and other family members at the Christian Brother's labor camp in Calistoga, California, where he learned how to farm vineyards and graft grapevines. Reynaldo's ambition to succeed was so grand that after only two years he became the vineyard foreman. His responsibilities included supervising his cousins, uncles, and his own father.
Reynaldo married María de La Luz Ramirez in 1970. They had nine children, forming the fourth generation: seven sons (including twin boys) and two daughters.
Reynaldo developed the Sonoma Cutrer Les Pierres Vineyard in the Sonoma Valley in the 1970s before moving to Napa with his family to work with several vineyards and wineries, including St. Supéry Winery's Dollarhide Vineyards in Pope Valley. Reynaldo worked as an employee for other vineyards and wineries until he established his own vineyard management company with his family in 1994.
In 1982 Reynaldo was sent to Nice, France to teach the French different grafting techniques that he had invented. On the way there, Reynaldo got lost dressed in his best cowboy apparel in New York thinking he had arrived in France. Fortunately, he was escorted back onto the plane to continue his journey. Once he arrived, he asked for a chainsaw, which he used to remove all the rootstock heads before grafting them. Reynaldo tells the story that everyone quickly walked away, not impressed. Two weeks later, once all the vines had bud break, the French came up to Reynaldo and offered him beer. Soon after, Reynaldo requested to return to America early to see his twin sons who were just born.
After years of saving money, María and Reynaldo purchased their first 13-acre property in 1984 in the Los Carneros appellation of Napa. They planted Pinot Noir grapes and taught their nine children how to work in the vineyards. Reynaldo believed that his children needed to learn to work hard to appreciate the sacrifices their three previous generations had made. He would often say that hard work would keep the family together.
María de La Luz Robledo - Founder
María de La Luz Robledo has been farming and growing wine grapes with Reynaldo Robledo since she arrived from Mexico in 1972. María and Reynaldo founded Robledo Family Winery in Sonoma with their nine children in 1997. They also started two other thriving businesses, Robledo Vineyard Management in 1994 and Robledo Ranches in 1984.
María de La Luz was born in Santiagillo, Michoacán, Mexico to a farming family of four children. She was the youngest child born to Francisco and María Ramírez. Growing up in Mexico and through her parents, María recognized her two passions: agriculture and cooking. Her father, Francisco, raised cows and farmed tomatoes, onions, strawberries, beans, corn, and potatoes. Her mother was an excellent cook and raised turkeys, pigs, and chickens to prepare traditional native dishes from recipes that had been passed down through many generations of women in her family.
Robledo Family Winery's popularity soared when María began sharing her Mexican dishes from 1997 to 2012. She would pair her Sauvignon Blanc with fresh-made ceviche served on a tostada with cilantro, onion, mango, tomatoes, and lemon juice. Her specialty was to cook enchiladas, chiles rellenos, and pork sopes in front of her guests. She would also enjoy making fresh tortillas for tacos de carne asada paired with the Braceros, Red Blend. María's greatest joy has always been her family, tending to her home and vegetable garden, and bringing people together with food. María has been featured in countless newspaper and magazine articles about her food and wine pairings.
Today, María grows Pinot Noir and Chardonnay grapes from her own vineyards in the Los Carneros appellation of Napa and Sonoma Coast. She loves cooking and spending time with her twenty-seven grandchildren. María was also featured in the 2019 documentary, Harvest Season, nationally broadcasted on PBS in May of 2019.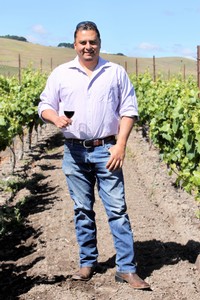 Everardo Robledo - CEO
Everardo was born in Zamora, Michoacán, Mexico in 1975 and was named after his paternal grandfather. That same year, his father Reynaldo, developed the Sonoma Cutrer Winery, Les Pierres Vineyard in Sonoma. As a child, Everardo was very inquisitive, wanting to know how everything worked. He began his career working in his family vineyard at the age of nine. As a young teenager Everardo could lay-out and develop an entire vineyard by himself. Since then, he has developed hundreds of acres of vineyards in Napa, Sonoma, and Lake counties for Robledo Vineyard Management and Robledo Ranches. Everardo helped establish Robledo Vineyard Management, Robledo Ranches and Robledo Family Winery, along with other companies.
Everardo opened Robledo Cellars in 2007, a custom crush facility in Sonoma. Robledo Cellars also produces all the wine for the family winery, as well as wine for private labels.
Today, as a fourth generation Robledo, Everardo is carrying on his family legacy, sharing it with his wife Nadine and their four children: Vianna, Angelo, Maximus, and Santino.
Jenaro Robledo - Vineyard Manager
Jenaro was born in Sonoma Valley in 1979 to Reynaldo and María de La Luz. As a child, while removing brush from the vines after pruning Jenaro would pass up all of his siblings, which was impressive considering Jenaro was only six years old and the youngest of the Robledo children who worked for the family vineyard at that time. Jenaro began working for Robledo Vineyard Management with his brothers Everardo and Reynaldo, Jr. when it was established in 1994. Together, with their father Reynaldo, Sr., they developed hundreds of acres of vineyards in Napa, Sonoma, and Lake counties. Jenaro and his brother Everardo also established Robledo & Sons, which owns and leases vineyards in Napa and Sonoma counties.
Jenaro received his degree in viticulture in 2000 from Napa Valley College and specializes in sustainable vineyard farming. He has run Robledo Vineyard Management since 2002. He currently manages and farms a few hundred acres in Napa, Sonoma, and Lake counties, including Robledo Ranches, the vineyards owned by the family.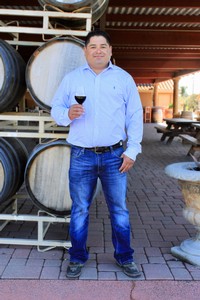 Francisco Robledo - Cellar Team
When Francisco, son of Reynaldo and María de La Luz, was growing up at the family vineyard, he enjoyed riding the four-wheeler through the vineyard rows while replacing the drippers for efficient irrigation.
Today, Francisco enjoys all aspects of the wine business. He is often socializing with winery guests in the tasting room and works hard in the wine cellar and production. Francisco works well under pressure during harvest or when bottling his family's finished wine product. He is always eager to share his role in the wine production and is proud to talk through the winemaking process and his involvement with each wine.
Luis Robledo - Sales Team
Luis, son of Reynaldo and María de La Luz, has been working at the family wine tasting room since it opened its doors in 2002. Luis loves hosting people for private tastings and tours. His favorite part of receiving visitors at the winery is sharing the family history with his guests. Luis has also travelled nationally to represent his family in New York, Tennessee, Florida, and Texas.
Today, Luis has begun to establish himself as the regional sales representative for the family, working with Safeway, Whole Foods, Sonoma Market, and other local restaurants.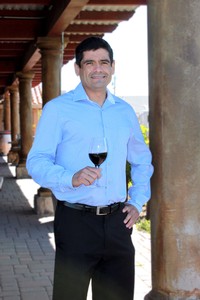 Lazaro Robledo - President of Sales
Lazaro, son of Reynaldo and María de La Luz, is passionate about sharing his family story with guests at the winery or at speaking engagements around the world. He is proud to share the sacrifices made by generations of his family and the stories about growing up in a family that strived to achieve the American dream through hard work and dedication. When not working in the family tasting room, hosting wine events, or hosting guests in Sonoma Valley, Lazaro is traveling, selling the family wines across the country.
Lazaro and his wife Patricia have four boys: Orlando, Lazaro, Jr., Abel, and Benjamin.
Adrian Emiliano Robledo- Cellar Team/ The Olive Tree Farm
The youngest son of Reynaldo and María de La Luz, Adrian Emiliano, began working at the winery since a young age. He is part of the cellar team and bottles all of Robledo Family Wine.
Adrian Emiliano also works at The Olive Tree Farm owned by Reynaldo, Jr. Adrian Emiliano works closely with his brother. At The Olive Tree Farm, they offer a wide variety of olive tree varieties, including highly popular fruitless trees. They offer many services including moving, renting, and selling olive trees. For more information on their services, click here.
Adrian Emiliano has three children: Adrian, Isabella, and Emilano.